Las Vegas 3D Virtual Property Tours offers 3D Matterport tours
Las Vegas 3D Virtual Property Tours are very pleased to offer Matterport tours for Las Vegas, Summerlin, Henderson, and other local areas! Matterport tours are ideal for properties that must been seen first hand to be truly appreciated. Our 3D Virtual Las Vegas Matterport Tours allow the viewer to become fully immersed in the home, as if they were playing a virtual reality game. Our tours let the user walk around the house and it helps them see how the spaces are joined together.
Las Vegas Matterport Tours
Matterport tours are absolutely essential if your seller has a large foyer that isn't perfectly captured by regular photos, or if you want to replicate walking between different areas of the property. Perhaps your seller doesn't keep their home in a clean and tidy condition for viewing? Maybe they aren't able to leave the property at a moments notice? Fear not, as you can still achieve very similar levels of foot traffic with just a simple click of a button! Got a home listed that's a bit out of the way? Not to worry! Potential buyers can view properties from the comfort of their own homes using their smartphones or laptops. The Las Vegas Valley has people working many different hours of shifts so this process allows buyers to view houses at night due to their busy and varying work schedules. By using a 3D virtual tour, potential buyers can view houses at any time from any location.
Why not take a look at some of the properties that are already using this innovative technology for their listings? Click here to take a look as some great examples of our Las Vegas 3D property tours and get a 360 view.
Matterport Leaves No Stone Unturned
Las Vegas Matterport tours provide all the benefits of the usual video-based 3D tours. If you decide you want to include a highlight tour, we can easily do that for you. We can also include "Mattertags" in the models to highlight rooms, finishes, and furnishings. Absolutely anything and everything can be labeled. We also include a single-page branded website with every 3D house tour, which both clients and listers can login to with their own private accounts. Through the portal they will be able to alter listing information, pricing, MLS, color schemes, and more! Use a unique domain name that's pointed directly to your fully customizable single-page website to showcase your property! Potential buyers can then contact you directly via our email service, with their request arriving straight to your inbox.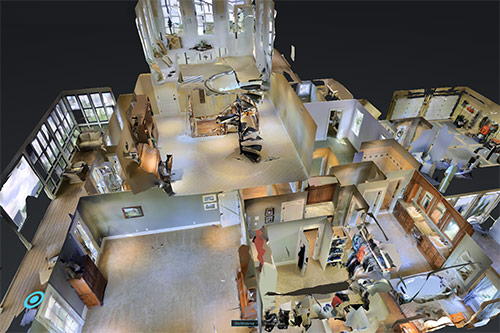 Matterport cameras go way further than traditional panoramic cameras as they're able to shoot a 3D point cloud and instantly measure spaces ina 360 fashion. With these 3D home tours, the camera will automatically map out floorplans and generate the much loved "dollhouse" view which has been popularized by this fabulous tool. Users will be able to look around the space in any angle, throughout the entire 360 degrees, by simply swiping their finger across the screen of their device. Obtaining the square footage is easy and potential layouts can be conveniently planned!
Virtual Reality Immersion
Properties can now go even further by using Google Cardboard to be experienced in virtual reality. 3D Las Vegas Tours are ready and waiting to answer any questions that you may have regarding virtual reality or Matterport tours. Book your shoot today by getting in touch! No space is too large or too small for our 3D virtual tour photography!
Thinking about scheduling a Matterport tour but have some questions? Take a look at our list of frequently asked questions by clicking here.